Soylent, the original food tech company which has made it its mission to make complete, sustainable nutrition accessible, appealing and affordable to all, has been recognized as Best Meal Replacement in the 2023 Product of the Year USA Awards. Determined through a national study of 40,000 American shoppers in partnership with Kantar, a global leader in consumer research, Product of the Year is the largest consumer-voted awards program.
Awarded the highly acclaimed honor of best product in the Meal Replacement category, Soylent Complete Nutrition Shakes are a healthy, delicious and convenient option that provides consumers with a complete, balanced, plant-based source of nutrition to make any day a little healthier. Each shake is packed with 20 grams of complete plant protein, 0 grams of sugar and 28 immune supporting vitamins and minerals that are integral to a healthy lifestyle.
"Our core belief at Soylent is that complete nutrition can be sustainable and accessible to everyone," said Demir Vangelov, Soylent CEO. "As a recipient of the distinct Product of the Year seal, we are thrilled to share our passion for helping consumers live more balanced healthy lives and invite even more people to try our delicious products that contain the complete plant-based protein, healthy fats and essential nutrients the body needs."
The Product of the Year emblem was developed over 30 years ago and has been a trusted CPG pillar in the U.S. for nearly 15 years. The early mission was simple: help consumers cut through the noise on their grocery shelves and highlight the best new products when it comes to things that matter, such as thoughtful design, quality, and innovation. The Product of the Year red seal is a distinctive mark that allows shoppers to easily identify the top trendsetting products on the market, voted on by 40,000 fellow consumers, while also serving as a valuable marketing tool for brands to build consumer awareness, especially among competitors within their respective spaces.
"Product of the Year is more valuable now than ever. The level of access consumers have to products today is unprecedented – far beyond retail aisles, they have DTC options, grocery delivery in the palm of their hands, and they can watch their favorite influencer review items they're considering purchasing in real-time," notes Mike Nolan, Global CEO of Product of the Year Management. "Product of the Year is an established and increasingly relevant resource for CPG companies, helping their products stand out, and be understood and trusted by their customers. Entirely new 2023 categories of Product of the Year award winners further demonstrate the ever-evolving trends we are seeing in the U.S. market, and as a company, we're thrilled to be at the forefront of recognizing these products for top-performing function, design, packaging, or ingredients."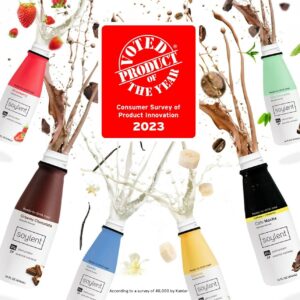 The full list of 36 winners of the 2023 Product of the Year Awards was revealed at the annual Product of the Year Awards Show on February 16 at the Current, Pier 59 in New York City. The celebration kicked off with a red carpet, followed by a night full of entertainment with Rachel Dratch and Alex Moffat hosting the Award Show.
In tandem with the winner announcement, Soylent Complete Nutrition Shakes are currently featured in a shoppable article on PEOPLE Online created in partnership with Dotdash Meredith, the largest digital and print publisher in America. Additionally, Ensemble IQ, a premier business intelligence resource with revered publications, including Progressive Grocer, Store Brands, Drug Store News, Convenience Store News, and CBD Retail Insights, has also shared the news of the 2023 winners in respective categories.