Studies[1] show that the entire food industry value chain causes approx. 30% of all greenhouse gas emissions worldwide. The transition from animal protein sources to alternative protein products presents one option for reducing CO2 emissions. Nevertheless, there's one thing that the experts agree on: The consumption of alternative protein products and vegan foodstuffs – which was at an all-time high during the COVID-19 pandemic – will only increase again if the taste of such products is optimized with regard to their structure and sensory experience, and also provided that their nutritional profiles and pricing are improved so that consumers are motivated to purchase them.
3D printing could serve as a key technology for improving the imitation of meat or fish products in future. In such cases, a dosing process is used to modify viscous plant-based protein masses or cultivated cell suspensions into suitable shapes, depending on the raw material and desired end product. It is essential that a delicate, low-shear dosing process is used here to avoid placing an intensive mechanical strain on the mass and to ensure that the end product remains succulent. In addition, the application must be low-pulsation and continuous in order to achieve the desired structure and shape. Depending on the raw material, the dosing equipment must also be suitable for abrasive contents (e.g. fibers, particles).
One alternative to 3D printing is the extrusion method, in which plant-based proteins are textured in a way that imitates the look and structure of meat. Plant-based protein masses are pressed out through an extruder under high pressure, temperature and shearing, which forms fibrous, meat-like structures. Dosing pumps from ViscoTec can continually supply doses of additives during the extrusion processes with extreme precision – even under high counter-pressures.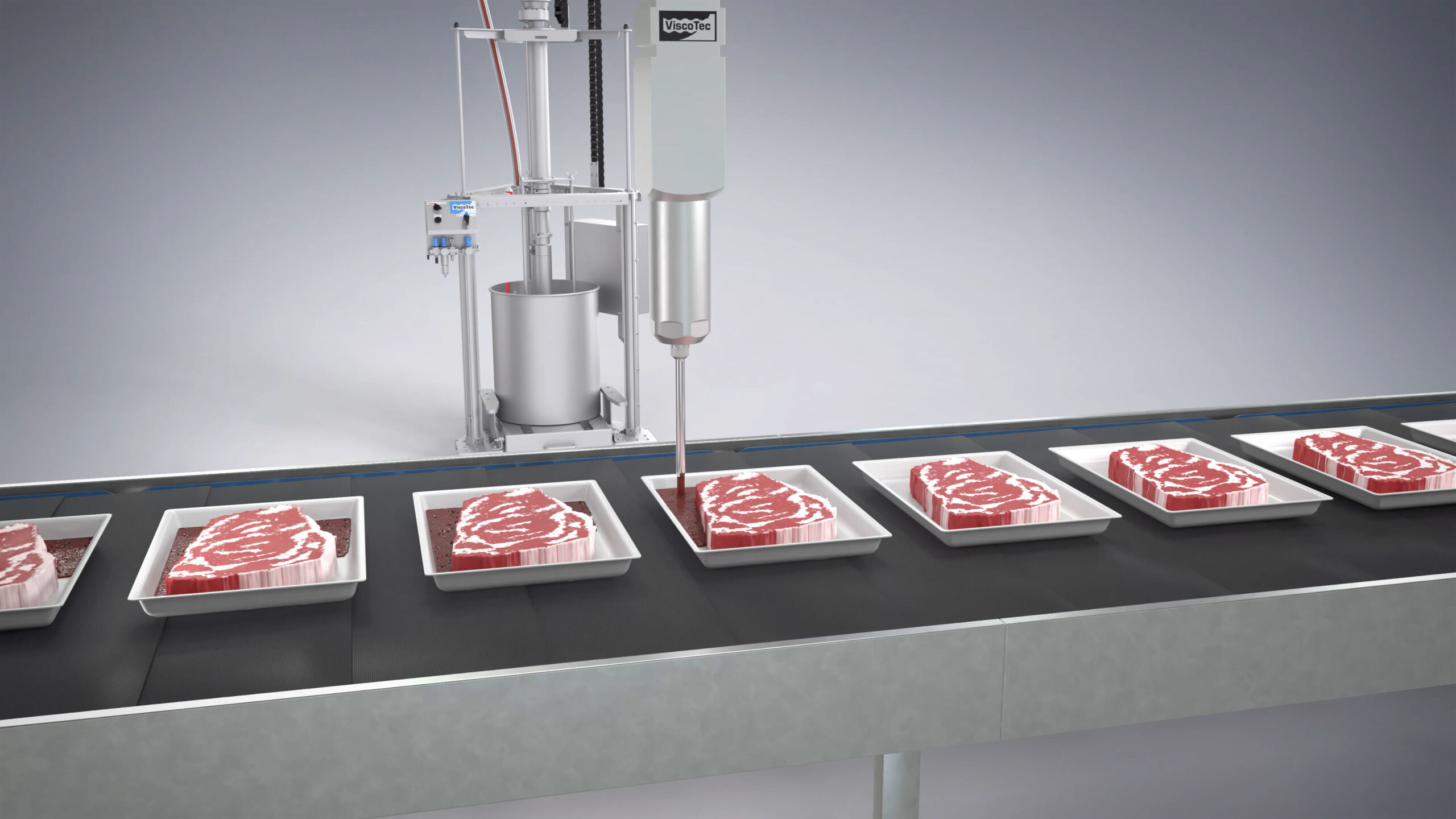 Moreover, alternative protein products are frequently inserted into thermoformed packaging via automated packing processes – which also require different dressings or sauces to be dosed into multiple containers simultaneously, with precision and without any dripping.
Furthermore, ViscoTec dosing pumps are already an established solution in various filling processes for the production of vegan foodstuffs, e.g., vegan mayonnaise, dressings or soups. Thanks to the low-shear, low-pulsation dosing principle, the emulsions of innovative vegan products remain stable and can be processed without any problems. The volumetric delivery principle also enables the processing of fluids with suspended solids.
The examples provided illustrate the significant contribution that ViscoTec technologies can make to the future of the food industry.
[1] https://proveg.com/de/5-pros/pro-umwelt/wie-sich-die-industrielle-tierhaltung-auf-den-klimawandel-auswirkt/