F Istanbul, Türkiye's most innovative and fastest growing exhibition was held in Istanbul Expo Center, Yeşilköy which is the largest fairground in Türkiye between 12-14 July 2023. Bringing together the latest business opportunities in the food sector, leading companies and business people of the sector, the exhibition hosts 16 thousand 858 visitors. With the participation of nearly 100 countries, mainly from Europe, CIS, North Africa and the Middle East, F Istanbul provided a rich experience where business cooperation opportunities were explored by showing the latest trends in the food sector.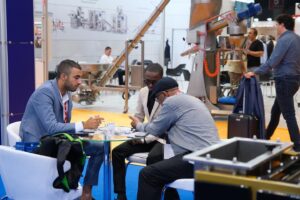 F Istanbul exhibition, whose primary goal is to bring brands together with international markets, created important opportunities for domestic and foreign global brands producing in Türkiye as well as enterprises aiming to gain a share from foreign markets with their products and technologies. Foreign companies from the target market also took part in the exhibition. This was an opportunity to establish cooperation with Turkish brands.
Record Participation to the F Istanbul
F Istanbul led the global food trade by bringing together all sectors under one roof within the scope of Food and Beverage Exhibition, Food Packaging, Ingredients and Technologies Exhibition, Shop Fitting and Store Design Exhibition, Nuts and Dried Fruit, Snacks Exhibition, Biscuits, Chocolate and Confectionery Exhibition.
Through its "Customer Matching Programmes", F Istanbul offered more than 1000 brands the opportunity to establish new business relationships. At the same time, the exhibition was at the focus of the global food industry with large number of exhibitors and visitors.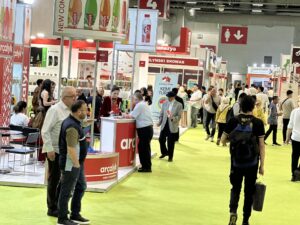 In addition to the export markets of Europe, CIS, North Africa and the Middle East, the exhibition targeted the markets of South Asia and South America this year within the framework of the distant countries strategy, and hosted 16,858 visitors from nearly 100 countries this year. Özgür Sofuoğlu, Founder, So Fuar Group, stated: " The food sector has a promising future as a sector in which our country is developing, branding itself and increasing its competitiveness in the international arena. Last year, F Istanbul hosted 5,586 professional visitors from 96 countries. This year, we hosted 16,858 visitors with a record participation. One of the most important features of F Istanbul is that it is at an equal distance to all companies that want to contribute to Türkiye's exports. The exhibition contributed to the strengthening of international trade by bringing together manufacturers, exporters, importers, wholesalers, distributors, e-commerce sites and chain markets. We can say that the F Istanbul increased the commercial connections of domestic and multinational brands and increased their share in exports by introducing them to the world through international trade buyers."
F Istanbul, organised by Federal Fuar ve Kongre Yönetimi, part of the So Fuar Group, will be held from 10 to 13 July 2024 at the Istanbul Expo Center, Yeşilköy.