The U.S. Food and Drug Administration announced draft recommendations for industry on the naming of plant-based foods that are marketed and sold as alternatives to milk. The draft guidance also recommends voluntary nutrient statements for the labeling of some plant-based milk alternatives.
"Today's draft guidance was developed to help address the significant increase in plant-based milk alternative products that we have seen become available in the marketplace over the past decade," said FDA Commissioner Robert M. Califf, M.D. "The draft recommendations issued today should lead to providing consumers with clear labeling to give them the information they need to make informed nutrition and purchasing decisions on the products they buy for themselves and their families."
In addition to the increase in market availability and consumption, the variety of alternative products available in the marketplace has also greatly expanded from soy, rice and almond to include cashew, coconut, flaxseed, hazelnut, hemp seed, macadamia nut, oat, pea, peanut, pecan, quinoa and walnut-based beverages. Although these products are made from liquid-based extracts of plant materials, such as tree nuts, legumes, seeds or grains, they are frequently labeled with names that include the term "milk."
The draft guidance, "Labeling of Plant-based Milk Alternatives and Voluntary Nutrient Statements: Guidance for Industry," recommends that a plant-based milk alternative product that includes the term "milk" in its name (e.g., "soy milk" or "almond milk"), and that has a nutrient composition that is different than milk, include a voluntary nutrient statement that conveys how the product compares with milk based on the U.S. Department of Agriculture's (USDA) Food and Nutrition Service fluid milk substitutes nutrient criteria. For example, the label could say, "Contains lower amounts of Vitamin D and calcium than milk."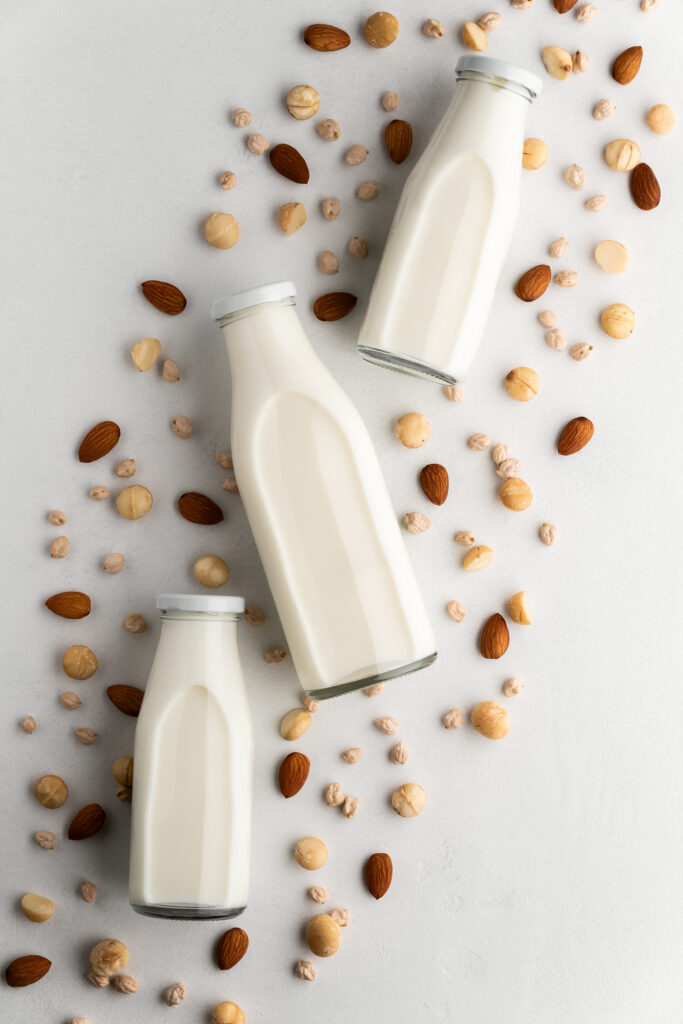 In September 2018, the FDA requested information on the labeling of plant-based milk alternatives (PBMA) with terms that include the names of dairy foods such as "milk." More than 13,000 comments were received, and the FDA determined that consumers generally understand that PBMA do not contain milk and choose to purchase PBMA because they are not milk. However, many consumers may not be aware of the nutritional differences between milk and PBMA products. For example, almond- or oat-based PBMA products may contain calcium and be consumed as a source of calcium, but their overall nutritional content is not similar to milk and fortified soy beverages, and they are not included as part of the dairy group in the Dietary Guidelines 2020-2025.
Dairy foods, including milk, are recommended by the Dietary Guidelines as part of a healthy eating pattern and contribute multiple key nutrients, including protein and vitamins A and B-12, along with calcium, potassium and vitamin D, which are currently under-consumed. The Dietary Guidelines only includes fortified soy beverages in the dairy group because their nutrient composition is similar to that of milk. However, the nutritional composition of PBMA products varies widely within and across types, and many PBMAs do not contain the same levels of key nutrients as milk.
"Getting enough of the nutrients in milk and fortified soy beverages is especially important to help children grow and develop, and parents and caregivers should know that many plant-based alternatives do not have the same nutrients as milk," said Susan T. Mayne, Ph.D., director of the FDA's Center for Food Safety and Applied Nutrition. "Food labels are an important way to help support consumer behavior, so we encourage the use of the voluntary nutritional statements to better help customers make informed decisions."
To support consistency across federal nutrition policies, the draft guidance recommends that industry use the USDA's Food and Nutrition Service fluid milk substitutes nutrient criteria to determine if a PBMA is nutritionally similar to milk. Also, the FDA encourages consumers to use the Nutrition Facts label to compare the nutrient content of different products to help make informed choices.