Whole Earth Brands, Inc. (the "Company") (Nasdaq: FREE) a global food company enabling healthier lifestyles through premium plant-based sweeteners, flavor enhancers and other foods, will bring some of the first Regenerative Organic Certified sweeteners to market under its Wholesome® brand. Wholesome, founded in 2001, was a pioneer in establishing Fair Trade standards within the sweetener aisle, bringing consumers high quality products that can have a positive impact on people and planet.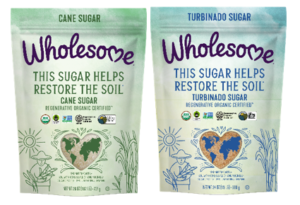 "We're very proud of this Wholesome launch, as the regenerative organic farming practices used to produce our Regenerative Organic Certified sugarcane at our partner farms in South America help restore the soil, capture carbon from the atmosphere and stay true to our Fair Wholesome Values," said Michael Franklin, Interim CEO, Whole Earth Brands. "As consumer education around regenerative organic farming increases, Wholesome Regenerative Organic Certified cane and turbinado sugars will provide an opportunity for consumers to vote for regenerative organic agriculture with their dollars. We are excited that Whole Foods Market is distributing our certified sugars to their national store footprint, which will expand awareness of the regenerative movement at large."
Whole Earth Brands is dedicated to creating positive change within the sweeteners category through sourcing leadership and supporting the Regenerative Organic Alliance, parent organization of Regenerative Organic Certified. The Company believes that through continued investment and development of additional Regenerative Organic Certified products, it will drive momentum of the regenerative organic agriculture movement and help improve agricultural practices within the sweetener category and beyond.