Shaking up the hot drinks category, disruptive start-up Rokit Health is launching its wellness coffee pods – the first of its kind to hit shelves in the UK – into over 250 Tesco stores nationwide from February 2023. The new listing comes hot on the heels of a rebrand for the drinks company and will offer health-conscious consumers national availability of its premium coffee blended with vitamins.
The premium Nespresso compatible pods, enriched with vitamins and packaged in 100% recyclable aluminium pods, will be available in Tesco in three varieties – Mind Boost, Immunity Boost and Mighty Matcha:
Mind Boost – A 100% Arabica coffee enriched with vitamins B2, B3, B5, B6 and B12, to support the nervous system and contribute to mental performance.
Immunity Boost – A 100% Arabica coffee enriched with vitamins B6, B12, D, iron and zinc to support and contribute to a healthy immune system.
Mighty Matcha – Organic matcha powder from Japan, naturally high in powerful antioxidants to help boost your energy and metabolism.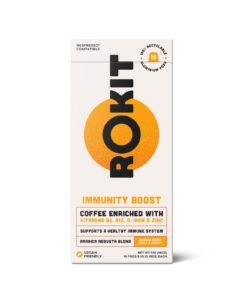 Scott Markham, founder of Rokit Health, said: "We're committed to helping consumers make better choices for their body and soul. Our coffee is all about the blend, creating great tasting coffee with added goodness to positively impact physical and mental health. Our functional coffee pods can be used with Nespresso machines giving consumers a convenient way to enjoy them as part of a balanced and healthy lifestyle."
Saydee Calvert, Tesco said: "Seven in ten consumers claim to try to lead a healthy lifestyle[1] with the recent growth of the health market being driven by 'benefits-led' products. Rokit taps into this trend with its new wellness coffee pods that give health-conscious consumers a convenient yet great tasting offering, with the added bonus of being enriched with vitamins."
Markham continues: "Along with making great tasting drinks bursting with goodness, sustainability is very much at our core. Our drinks are made from the highest quality ingredients that have been sourced from sustainable and ethical farms, with our 100% recyclable aluminium pods being manufactured in the UK."
Available in packs of ten pods, the Rokit wellness pods are Nespresso compatible and vegan friendly. Rokit Health drinks only ever use raw ingredients that are minimally processed and free from chemicals, preservatives, and flavourings.