Pieminister launched their latest addition to the Mooless Moo family. Gluten-free, plant-based and frankly delicious.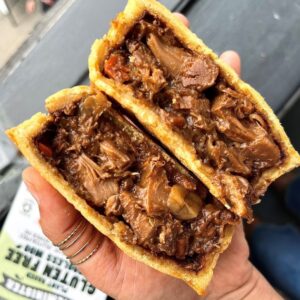 Catering for both gluten-free and plant-based diets has had us scratching our heads in the test kitchen for years. Creating a plant-based and gluten-free pastry that was strong enough to hold the pie filling and tasty enough to match top-notch pastry standards was a serious challenge.
Anyone with gluten-free and vegan dietary preferences can now indulge in these award-winning pies, both in restaurants and at home. Although you don't have to be either to make it your pie of choice. It is one of the favourites at weekly Pie-day Friday office lunch after all.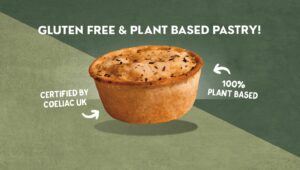 Mooless Moo filling was even crowned Supreme Champion at the 2022 British Pie Awards! In the judge's words "the moist filling had 'bite' and the balance of flavours in the pie was just right".
"This was music to our ears as we endeavour to reduce the range space that we currently give to our beef pies as part of our 2025 Sustainability Goals."