Entrepreneurs, housemates and best friends Marisa Poster and brothers Teddie and Levi Levenfiche together created Europe's first Matcha green tea-powered canned energy drink and are now on track to rake in a mighty £4million in revenue in the next 12 months.
Their appearance on the well-known entrepreneur's hub and TV show; Dragons Den, raised a full house of backing for Marisa Poster and Teddie Levenfiche, neither of whom have much prior food or drink industry background. The PerfectTed duo pitching walked away from their appearance on BBC1's Dragons' Den appearance with a £50,000 investment from businessmen Steven Bartlett and Peter Jones.
The trio, who all live together in London, had just five days to prepare for the pitch of their lives, and they wowed the panel.
"It's been crazy," said US-born Marisa, speaking to londonpackagingweek.com. "And it's funny because the other day, we found the original business plan we had written about two years ago, and we have very much outpaced our projection. So, it's exciting but also very hard to believe."
Launched in 2021, PerfectTed was born from a desire to bring green tea-powered energy drinks – made with Matcha and flavoured with real fruit – to the masses.
Marisa and Teddie, who will speak at London Packaging Week in September, met on their first day at the University of Pennsylvania. When they returned to the UK, Marisa, Teddie and Levi, who all live together in Fitzrovia, were surprised at how few ready-to-drink options there were, so they decided to create one.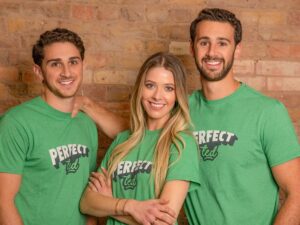 "What's interesting is the vision to launch an energy drink was an evolution from our original idea," said Marisa. "Our original idea, which can be found on our Kickstarter page, was for a Matcha Latte and a Matcha tea in a Tetra Pak carton.
"So very different to what we have now, and we had to change our strategy a bit when we were having issues with that manufacturer because there's only one manufacturer in the UK that can put it into 330ml Tetra Pak cartons. It has evolved. I don't think we would have ever imagined that we would be where we are today when we first started.
"I think it's been less of an uphill battle than we had initially expected just because we're entering the market at a fantastic time when mental health is at the forefront of the conversation, and people are looking for healthier alternatives to caffeine. PerfectTed comes at a fantastic time by offering the functional energy that many crave."
PerfectTed was created with a mission to transform the energy industry with delicious drinks, using simple, 100% natural ingredients with no additives, preservatives, or added sugar, just all-natural energy. Powered by organic, ceremonial grade matcha, an antioxidant-rich Japanese matcha green tea, PerfectTed contains 80mg caffeine (equivalent to a Red Bull or a small cup of coffee) and is a more enduring and stable energy source.
PerfectTed claims to provide a natural alternative to 'unhealthy' energy drinks. The range comprises Pear Ginger, Apple Raspberry and Pineapple Yuzu flavours and is available in single cans (RRP from £1.75) and four-can multipacks (RRP £6).
"I think we realised that with categories like Kombucha or premium probiotic products, many of these trends originate in the US. Matcha has been growing steadily in the US market for quite some time," Marisa added. "Coming to the UK, I realised that there were trends that were lagging about 18 months in the market, and it was only a matter of time before it became mainstream. So, I think we entered it just at the right point. "
After appearing on the BBC's hit show Dragons' Den and receiving a clean sweep of offers from all investors, the duo had a difficult decision. Which dragon could help catapult their brand onto supermarket shelves across the UK?
And it was Steven Bartlett and Peter Jones that Teddie and Marisa opted to work with, for a £25,000 investment for a 5% share from each.
After describing it as the "biggest risk we ever took for the business," Marisa commented: "We couldn't have asked for a better segment for them to have aired. We were in there for an hour and a half and went deep into the business's financials. And funnily enough, they barely showed any of that, and instead, it was like a 14-minute advertisement for the product.
"We're grateful that they chose to air the segments they did. But it was a unique launchpad and has given us a partner in Steven Bartlett, who is a fierce advocate for the brand and putting his whole weight behind it. His support as an entrepreneur has been so valuable, and he's such a champion of entrepreneurship to be in our corner.
"We got a lot from their comments as well. Peter Jones' first comment about the packaging was, 'Where's your brand? I can't see it. And at the time, we went into the Den with one of the first iterations of the label, and when you look at it now, the logo was so small you could barely see it.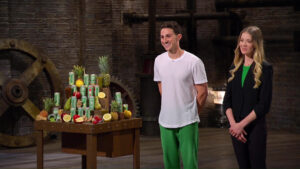 "And that was his primary concern with it. And obviously, there is a reason for that because we wanted the product to be so obvious to what it was whilst sitting on the shelf. And we understood at the time that we had very little brand equity. So, it's funny. Each iteration. The logo gets bigger and bigger and bigger."
The London-based company set up in 2021, has recently secured a listing at Tesco, the UK's largest grocer, to build on its presence in retailers, including Holland & Barrett and Selfridges.
The PerfectTed drinks, which contain 80mg of caffeine per 250ml can, are also on sale in eight other countries, including Ireland, Singapore and the UAE. PerfectTed is in 1200 Tesco stores, Planet Organic, Holland and Barratt, and Marks & Spencer.
And while on the surface, the journey looks like one of straight success, adapting to a steep learning curve, minus any real experience in the food and beverage industry, and dealing with manufacturing issues early on, make the duo well placed to talk about the highs and lows of life as a supercharged startup.
"We've evolved our packaging through consumer feedback," Marisa admitted. "Another helpful feedback was that there was no association with green tea anywhere on our packaging in the original format. Making that association with green tea gives people a baseline reference for what you go on, and they can understand more about options, like when we changed sparkling energy to green tea energy. And that was a subtle change. That made a lot of difference for people who did not know what Matcha was.
"Another thing was about no added sugar. You realise that that was an important attribute that people were picking up on, but it needed to be more apparent on the front of the can.
"There had never been a green card in the fridge before that we saw, and ours immediately stands out on the shelves. So just thinking about ways to stand out in a crowded space can pay off."
Two-thirds of the trio – Marisa and Teddie, who delivered 'the' perfect pitch will speak on the Food & Consumer Stage at London Packaging Week on September 21.
On the prospect of speaking at 12-12:30 pm on the first day of London Packaging Week, which will take place on 21 & 22 September at the ExCeL London, Marisa said: "We're excited, and it will be unlike any other talk you've ever attended.
"We'll touch upon funny stories regarding manufacturing and design and even the pressure to rebrand – even as an emerging brand.
"We see this with a lot of different brands. I won't make names, but I've seen several other specifically soft drinks brands rebrand quite early in their journeys, and I don't feel they've given enough time to their original concept to test it out in the market. And we almost fell victim by pursuing a rebrand in October.
"And that's when Tesco turned around and said, 'We love you, we love your packaging, we love your brand, and we're so excited to launch you guys in March'. Allowing yourself to collect feedback to make informed decisions is probably the most important thing we've learned."