Jackson-Mitchell, founded in the Central Valley of California in 1934, produces famed Meyenberg goat milk and butter. Redwood Hill Farm & Creamery, started 50 years ago in Sonoma County, California as a 4-H project, produces Redwood Hill Farm® goat milk yogurts and kefirs and Green Valley Creamery® lactose-free cow milk dairy products. The creamery also makes premium, plant-based dairy alternatives.
Darey Brands effectively merges these category leaders, with strong market shares and impressive sales growth rates, under one parent name. The new company is well-positioned for accelerated growth across multiple categories with its innovative portfolio of goat, cow, and plant-based products.
"Our founders were innovative pioneers in healthy eating and sustainable agriculture long before these ideas became center-stage movements," says Bonnie Neulight, CEO and Managing Director of Darey Brands. "Our new name, Darey Brands, is not only a play on words, but also a nod to our heritage and ethos. We proudly craft dairy that dares to be different."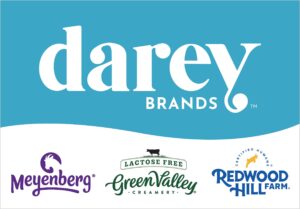 Nutritional awareness and food sensitivities are on the rise. In 2022, 52% of Americans surveyed by the International Food Information Council (IFIC) reported following a specific diet or eating pattern, a sharp uptick from 39% in 2021. Of those who followed an eating pattern or diet, the most popular choices were clean eating and mindful eating. Darey Brands' portfolio will offer consumers a broad range of product benefits – from environmentally sustainable to easily digestible, nutrient-rich, and indulgent.
"Our goal is to bring the 'comfort' back into comfort foods – both nutritional comfort and environmental comfort," adds Neulight.