Arcadia Biosciences, Inc.® , a producer and marketer of innovative, plant-based health and wellness products, announced its GoodWheat™ pasta is now available in more than 1,000 retail locations coast-to-coast, doubling distribution in the six months since launch and providing consumers with a better-for-you version of a household staple.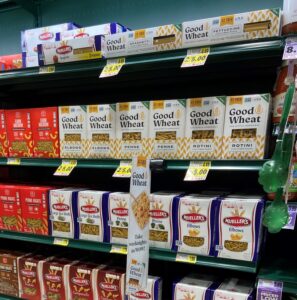 Launched in June 2022, GoodWheat is an innovative and healthy addition to the pasta category and the only product on the market made with Arcadia's proprietary non-GMO wheat grain.
"As consumer demand for healthy alternatives to our favorite comfort foods continues to increase, we're proud to expand our footprint and offer consumers a better-for-you pasta that tastes great and delivers significant health benefits," said Stan Jacot, president and CEO of Arcadia. "Less than 10% of Americans get the daily recommended intake of fiber, according to the Dietary Guidelines for Americans 2020-2025. Now, with GoodWheat, folks can get the fiber and protein they need while eating the delicious pasta they love!"
GoodWheat pasta contains four times the fiber of regular pasta – with 8g per serving versus 2g in regular wheat pasta – a significant health benefit for the 60% of U.S. adults who are seeking to increase their fiber intake to improve their digestive health, cardiovascular health, weight management and more. GoodWheat pasta also has 9g of protein per serving, which is about 25% higher than the 7g in most traditional pastas, and is rich in prebiotic fiber to support gut health and immunity.